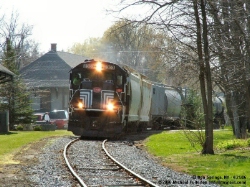 Welcome to the RRPictureArchives.NET contributor site of Michael Fullerton.



Hello...

I'm just starting to get back into railroading. As a young boy, I grew up in Herkimer, NY, and was often times found playing on the tracks (mainline) as young (and stupid) boys will do. I also lived across the street from an industrial siding which would occasionally feature a delivery or two. I was fortunate enough to have my mom's old Kodak 126 Instamatic camera which I used to take a few (unfortunately not enough) pictures of railroad views in and around Herkimer. Being the mid-late 70's, most of the shots were of Conrail with old Penn Central & Erie Lackawanna schemes still in existence.

Then there was about a 20 year gap during which I found other interests (girls, cars, girls, music, girls, partying, girls, full-time jobs, girls, 1st wife, no more girls, house, bills, responsibilities, divorce, 2nd wife, 2nd house, better job, 1st child, more responsibilities, 2nd child, etc.). Now that things have calmed down a bit, I'm able to see the lure of trains and railroads once again through my two little girls eyes.

With digital technology and a job that puts me on the roads of NY State occasionally, I'm able to once again capture images of the area railroads. Probably the most disappointing thing for me to see now is the lack of creativity with the various paint schemes. It appears that everyone now just owns black paint to cover the old call letters, and some white paint and cheap stencils to paint on their own designation. That can make for some very boring train-watching in my opinion. But, time marches on I guess. To model most of today's rolling stock, all you basically need is some cheap cans of automotive primer (gray/red/black), and some simple rub-on letters. At least I can get some visual satisfaction once I build my home model layout. I plan on modeling the 70's so I'll be able to get away with Penn Central, Conrail, Erie Lackawanna, Boston & Maine, etc. all on the same table. Yipeee Skippy!



You may browse my collection of pictures via the menu located on the left hand side of the page. I hope you enjoy the collection and thanks for stopping by!